When Laura Hayden is not killing patients–with laughter, she is killing it on stage as a stand-up comedian and inspirational speaker. Dr. Laura Hayden is a practicing physical therapist, touring comedian and speaker. Laura's stand-up career started at the front of the classroom while she earned her Masters in Physical Therapy from Mount Saint Mary's College. Her ability to highlight the humorous side of medicine led her classmates to nominate her to give their graduation commencement speech. To this day the faculty at Mount Saint Mary's College still talk about that "infamous" commencement speech. Laura credits this as her first stand up performance.
The impact of Laura's humor on her patients and classmates and her personal struggle with caretaker burnout led Laura to research the correlation of laughter on overall health—especially how it affects those charged with taking care of the sick and injured.  Laura's personal journey and research on the healing aspect of laughter led her to pursue her PhD in Physical Therapy from Boston University. The emphasis of her PhD was burnout and therapeutic laugher. Caregiver burnout is a serious issue in the medical industry and as a caregiver herself she understood how difficult it was to stay sane and positive when dealing with the stress. She found that laughter—as cliché as it may sound—truly is the best medicine for patients, their loved ones, and the medical professionals working the front lines.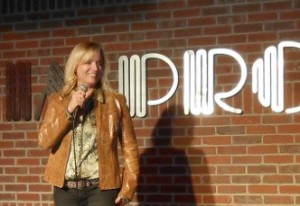 Today Laura lends her humorous take on the absurd, bizarre and rare moments that make living and healing such a great part of the human experience. Part of her mission to serve others, educate and entertain  with kindness and humor, Laura crafts one-of-a-kind speeches and uplifting presentations that helps people cut loose and find the funny side of any situation. The prognosis . . .terminal laughter!